In today's competitive environment, updating or replacing a building's outdated systems through energy efficiency consulting can reduce operating costs, increase your asset value and strengthen your property's appeal. Utility bills alone can represent, on average, 30% of a multi-family complex's operating costs. You can no longer afford to do nothing. Consider a deep energy retrofit using a more accessible and beneficial energy finance solution.
New efficient HVAC, controls and lighting can bring a 30% to 50% reduction in energy use for more energy efficient multi-family housing, in turn reducing operating costs by up to 15% and therefore increasing net income
Increasing net income increases property values by $3 to $30 per square foot

Upgrading outdated systems through a deep energy retrofit improves building's health & safety and enhances building's leasing appeal

Every single day you ignore inefficient equipment and systems, net income disappears
RENEW's unique energy efficiency consulting team and energy finance solutions helps owners of multi-family buildings reduce energy bills and improve building conditions for residents by:
Replacing outdated systems, such as boilers, lighting, HVAC, with energy efficient systems
Installing state-of-the-art control systems as part of the energy retrofit
Insulating and air sealing in key areas
Installing clean energy generation systems, such as CHP (combined heat and power)
Why Retrofit Your Multi-Family Housing Unit?
The owner of a 400,000+ sf, 17 unit apartment complex spends roughly $750,000 per year for energy. RENEW identified ways to reduce energy costs by an average of $255,000 per year over the next 10 years. Upgrading the failing, obsolete infrastructure and installing new energy efficient technologies would require a $1.9 million investment. A significant internal demand on the company's corporate capital had made it difficult for the owner to make the investment himself.
RENEW proposed a unique approach: RENEW will identify, design, construct, own, maintain and fund the necessary improvements and will sell the realized energy savings directly to the owner at a discount to their current energy rates. The owner pays, at a discount, only for the energy actually saved. With this unique energy finance solution, there are no upfront capital costs and the owner can immediately begin reducing his energy expenses. This innovative approach is far superior to the "do nothing" option and results in energy efficient multi-family housing. Consider the following:
If owner defers action for 10 years he spends an extra $255,000 a year in additional energy costs, and his building infrastructure continues to age and deteriorate, reducing its value and appeal.
Owner pays RENEW out of the energy savings from the their chosen energy finance solution. Owner's operating costs are reduced by $30,000 per year. With the deep energy retrofit implementation, a new state-of-the-art, high efficiency infrastructure increases building value.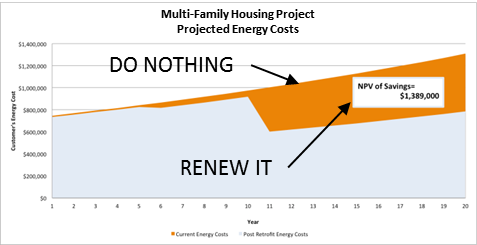 Learn how we can help you with your energy efficiency replacements and upgrades.
Contact Us
Contact Us